It was all about the food. To be honest, it always has been, and probably always will be.
It was all about the food when I was growing up in a small mining town in the north of England, distracting myself from my grimy surroundings with the smells of Bengali food that wafted from the large kitchen in our family home. And, it was all about the food 40 years later as the death of my beloved mother and the pressures of running a failing publishing company brought me to the point of a nervous breakdown.
It would not be too dramatic to suggest that food saved my life when I decided to leave my job to follow my dream to "go everywhere, eat everything." I spent a year on the road, traveling to 31 countries in search of the best things to eat on the planet.
It was that journey that resulted in my first book, Eat My Globe, and also the journey that brought me to the United States to become one of its unlikeliest new citizens. I met my now wife during an otherwise unhappy week in Brazil, and followed her back to her home of Los Angeles, where my puppy dog persistence finally paid off when she agreed to marry me in 2010.
My permanent residency followed quickly afterward, but it wasn't enough. Much as I approach my travels, I wanted to participate rather than merely be a passive observer. I did not want to just live in the United States; I wanted to become an American. Before I did that, however, I needed to figure out exactly what that means, and of course, if you have been following along, you will know that there was only one way for me to do it.
Making full use of social media and the contacts I had made during my second career in food broadcasting, I reached out to ask America for invitations to the best food experiences the country had to offer, as well as an opportunity to meet the people behind them. America did not let me down.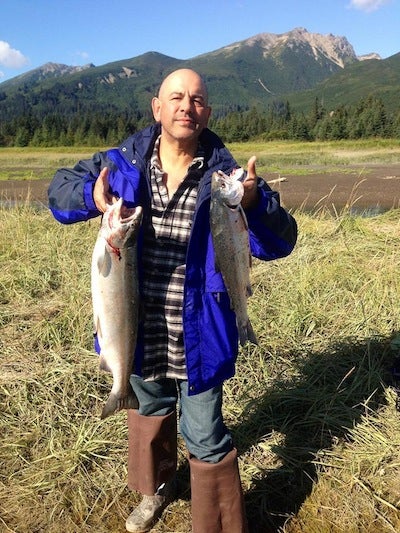 There were invitations to fish for salmon in Alaska and for lobsters off the coast of Maine. There were invitations to make whiskey in Tennessee and beer in Seattle; invitations to compete in BBQ competitions in the Midwest and chili-eating competitions in the Southwest; as well as enough offers to from folks willing to host me in their homes that I was soon able to construct an itinerary that would keep me absent from Los Angeles for all but 20 days of 2013.
That year of hectic travel was filled with so many extraordinary experiences that it makes my head hurt to narrow the field down to just a couple of representative highlights, but two in particular come to mind.
In the retirement home for the stark raving bonkers that is Santa Cruz, I spent time with the young apprentices at Love Apple Farm. I worked with them as they labored from dawn to harvest crops in peak condition for the farm's demanding restaurant clientele. And I helped prepare simple but memorable meals with them as they shared not only their food, but also their life stories and their ambitions for the future. Before I arrived I had been very firmly rooted in the "grumpy old man" camp: Young people were an annoyance to be avoided as often as possible. However, the enthusiasm of the four apprentices was so infectious that I left, after a week in their company, feeling rejuvenated and with a worldview considerably less jaundiced than it had been seven days previously.
On the other side of the country, my prejudices were equally challenged as I met an entirely different cultural strand of the American mosaic. I had been invited to cook for the team of motorsports legend Richard Petty at the Daytona 500 race in Florida, and found myself deep in the heart of a trailer park that encircled the stadium. The area closest to the track had been reserved for the colossal luxury trailers of the team owners, drivers, and wealthy sponsors. It was all very impressive, yet it was to the outer reaches of this encampment that I felt inexplicably drawn.
Here, less affluent fans of NASCAR had created their own township, which they had defiantly christened the "Redneck Riviera." Despite the early hour of my arrival, many parties appeared to be well underway, and as I threaded my way through alleyways of battered RVs and ramshackle tents, I found cold beers and hot food being pressed into my hands at every turn.
As a card-carrying West Coast liberal, it would have been all too easy to view my hosts through the glasses of condescension. However, my brief time among the occupants of this temporary city served to convince me that, despite our many opposing views on many things, I had far more in common with the people I met than I ever would have thought possible. We may have very polarized opinions on politics, religion, and guns, but we all had a very similar passions for friends, family, and having a great time. The hospitality I was shown that day was as warm as any I received anywhere in the country. No one seemed in the slightest bit concerned what my political affiliations might be and, as more than one person told me, "It's very hard to have an argument when you have a mouthful of ribs." It was a valuable lesson and made me hope that in the future I would be more likely to form opinions about people over a great meal than through the barbs of late-night talk show hosts
It was food that made all of this possible and allowed me to not only complete my bucket list wish to visit every state of the Union, but also to create what I call my "new American family," a network of friendships that I hope will linger and thrive as I settle into my adopted homeland.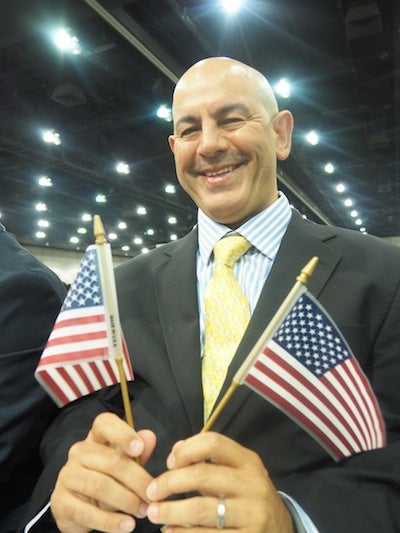 I became a citizen of the United States on September 17, 2014. Despite the fact that I shared the moment with 3,500 other people at the cavernous Los Angeles Convention Center, or perhaps because of it, I found the ceremony far more moving than I anticipated. I emerged from the auditorium knowing that things would never be quite the same again. One journey may have ended, but I hoped that my eating adventures would continue until the Good Lord announces last call.
As we pulled out of the parking lot, I asked my wife how she wanted to celebrate my newly gained status. Without hesitation, she replied, "Let's go and have a great dinner." And so it was that my first meal as a true Yank was a New England-style feast at Connie & Ted's in West Hollywood: clams, lobster rolls, and a decent bottle of Sauvignon Blanc. Which goes to prove that not only are we a perfect match, but also that, like I said before, it's all about the food.
is a Food Network personality who regularly appears on shows such as Iron Chef America and The Best Thing I Ever Ate. He has also recently appeared as an expert commentator on National Geographic's new series EAT: The Story of Food and participated in the Smithsonian's Raise a Glass celebration. His new book, Fed, White and Blue, which catalogues his journey to American citizenship, will be published by Hudson Street Press in 2015. He lives in Los Angeles.
Primary Editor: Andrés Martinez.
Lead photo courtesy of Ken Fager. Interior photos courtesy of Simon Majumdar.