I have always been a picker. When I was a kid, this meant searching the desert near my home in Douglas, Arizona, for old bottles and interesting rocks. Later in life, after I moved to Phoenix, my collecting interest turned to record albums. My husband had gotten me interested in jazz, and I began haunting local thrift stores in search of old LPs featuring icons like John Coltrane, Mary Lou Williams, Charles Mingus, Bill Evans, and Dave Brubeck.
I was on such a mission one evening last year when I made the discovery of a lifetime. At a Goodwill store in downtown Phoenix, I spotted a stack of two dozen or so reel-to-reel tapes—not something you often see in a thrift shop—precariously balanced atop a rack of CDs and cassette tapes. Most of the tapes were labeled "Lincoln Ragsdale," a name I did not recognize. But one box I picked up bore a faded paper tag that read, "Martin Luther King/Tempe, Arizona," with a tape inside labeled with the year 1964. While I suspected the tape might contain a speech by the legendary civil rights leader, I knew it could be something as mundane as a home recording of a radio broadcast. Each tape was only $3, so I decided it was worth taking a chance on the box with King's name on it and a few of the Ragsdale recordings. My purchase turned out to be a window into an era in Arizona's history that I didn't know much about.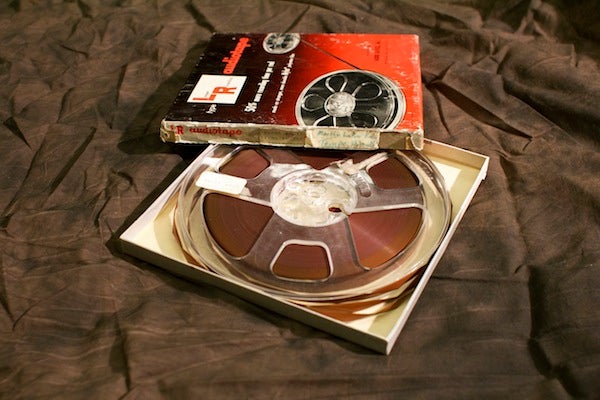 Previously I'd considered myself reasonably familiar with the civil rights movement and King's accomplishments. Because I was a young child during the 1960s, however, the period had little personal resonance for me. And, in any case, small-town Arizona seemed far removed from the broader social issues of the day.
I certainly had not been aware that King had any connection to Arizona, and an online search about his 1964 visit turned up only a nugget or two. The website for the Arizona State University archives did have a tantalizing photo of King on a stage with some dignitaries, so I sent an e-mail to Robert Spindler, ASU's archivist, to see if he was aware of any recording of the civil rights leader's speech in Tempe.
While I was waiting to hear back from him, I did some research on Lincoln Ragsdale, the name I had seen on the other tapes. It became clear that Ragsdale had been a hugely important public figure in his own right—a Tuskegee Airman, Phoenix businessman and early civil rights pioneer in Arizona. So I returned to Goodwill and purchased the rest of the tapes—about 30 in all.
Spindler wrote back saying he didn't think a recording existed of King's June 1964 appearance, which took place at ASU's Goodwin Stadium. I told him I thought I had found one, and he invited me to bring it by, along with the Ragsdale tapes.
At his office, I handed him the box with the King label. He turned it over and over in his hands, then examined the tape inside. He was silent for a moment, then looked up and said, "Hmm. This looks right." I leaned forward in anticipation. I saw Spindler's professional reserve begin to fall away as he smiled. But he warned me not to get my hopes up. He said that old reel-to-reel tapes are fragile, and can easily disintegrate. He said the tape might be blank, or someone might have recorded over it. The only way to know for sure was to have it professionally digitized, and await the outcome.
Spindler also told me more about Lincoln Ragsdale. (He said that most of his in-depth information about Ragsdale came from Race Work, a study of civil rights in the urban west by ASU historian Matthew Whitaker.) Ragsdale was a mortuary owner who helped integrate the segregated Encanto District, which was Phoenix's wealthiest neighborhood at the time. He helped integrate Phoenix schools and businesses, conducting sit-ins and other local protests. And he was instrumental in Arizona's Martin Luther King holiday movement, which resulted in the first such holiday established by popular vote in 1992.
After a few months of agonized waiting, we got word that the King tape was intact and that digitizer had heard King's voice. A small group of us, including Whitaker, another ASU professor named Keith Miller, and university librarian Sherrie Schmidt, met in a campus conference room to listen to the digitized recording for the first time. We sat in quiet suspense while Spindler started the audio.
It started with an introduction by ASU's president, G. Homer Durham. Then the recognizable tones of Martin Luther King, Jr., filled the room. I got goose bumps.
Apologizing for his hoarseness (he said he had given more than a dozen speeches the preceding week), King spoke for nearly an hour. Some of his phrasings so closely matched previous speeches that Whitaker and Miller, who have studied King's speeches for many years, were able to recite parts of it aloud with the track. King's speech was wide-ranging, touching on his travels to India, the way racism had gotten subtler, and the need for people of color to take advantage of opportunities that were not open to previous generations. King talked about the way technology brought people together, both spatially and symbolically—which seemed appropriate given the way that we were suddenly catapulted back into his presence.
He made a reference to the Civil Rights Bill pending before Congress, rebuffing those who thought legislation would not help. "It may be true that the law cannot change the heart, but it can restrain the heartless," he said.
King's voice rose and strengthened as he affirmed his faith in America and its ability to solve the problem of racism. He concluded with the famous refrain, "Free at last, free at last—thank God Almighty, we're free at last."
As the tape ended, the room was silent. We could tell the recording was genuine. That introduction by ASU's president helped to authenticate the speech's location. And not only did the words and phrasing sounded right to the ASU experts, but that melodic, urgent voice was unmistakable.
The fact that the King tape was found among those Ragsdale tapes also made sense. Spindler noted that Ragsdale was once vice president of the Maricopa County NAACP, and that it was the group's invitation that brought King to Arizona. Ragsdale's son, Lincoln, Jr., also told Spindler that he remembered once seeing the tapes at a vacation home in Flagstaff. Ragsdale's daughter-in-law Jennifer Mabry Ragsdale, who contacted me after some initial news reports, was not surprised to hear that some of the huge amounts of archival material her father-in-law saved over the years ended up at Goodwill. The ultimate division of his estate had been contentious and chaotic, she said, with no clear record of what ended up where.
Listening to these recordings, I felt transported to another time and another reality, at once familiar and foreign. I couldn't believe I had stumbled upon a treasure trove of Phoenix civil rights and religious history from the early 1960s and a recording of King's first (and, as it turned out, only) public presentation in the state. The existence of the speech demonstrates his interest in Arizona, and the enthusiastic reception he received even though some people might think of Arizona as an intolerant place.
The discoveries and the subsequent conservation work by so many dedicated scholars drove home the importance of being a good custodian. Not only of artifacts, such as these tapes, but of our shared experience. It made me proud to learn that there were pioneers for African-American racial equality in our state, and that their heroic efforts were woven into the fabric of the national struggle. We need to make sure our descendants don't forget this.
The Ragsdale recordings can be downloaded through the ASU Libraries site, and access to the King tape may be arranged through the library.
is a Phoenix-based graphic designer.
Primary Editor: Jia-Rui Cook. Secondary Editor: Andrés Martinez.
Photos courtesy of ASU Libraries. Lead photo: Martin Luther King, Jr. (fifth from the left) at Goodwin Stadium, Arizona State University, on June 3, 1964. Interior photo by Matthew Harp.